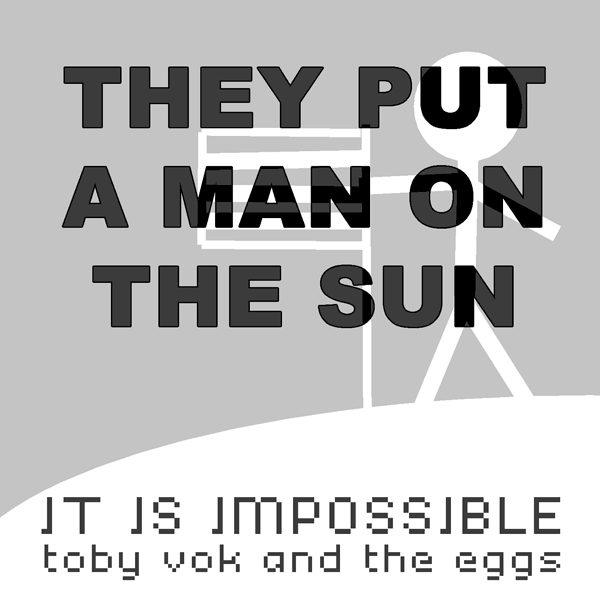 The great lost, found, lost again, found again comeback album. Read the full story of the recording here, in a blog post.
1. Maudlin Nonsense
2. I Went To The Leper Hospital It Was Built In 800AD And Now It Is Mostly Ruins
3. What This Means Only The Gods Can Know
4. Even This Is Not The Same
5. I Fear Nothing Except The Infinite
6. I Fell Through Time Today, It Was Beautiful
7. It Is Impossible
8. It Is Time
9. It Is The End
10. Actually It Isn't At All
11. But This Is
(click song name for download options and suchforth)
Press for IT IS IMPOSSIBLE
ONE
What can you say about Toby Vok & The Eggs that hasnt already been said? Sure, some people might say that THE DAVID MCPIPEHELM EXPERIENCE were irreplaceable, that R.E.M. owe them their entire early 90s back-catalogue, and some of Brian Wilsons quotes to the press back in the 60s indicate that the Experience were conducting time travel experiments – but after what happened to the Experience, Voks Eggs hatched something unstoppable. He had clearly learned from his time in McPipehelms shadow.
Be it the rhythmic kitchen noise of Forgetting Things Is Good; the lyrics from their biggest hit, FOR NOWN, which were pinched from a 1914 music book; the fucking intolerable noise of It Is Time; or the fact that the melody for Maudlin Nonsense can only be heard by dogs (and even then they probably wouldnt like it), Toby Vok and the Eggs have been a massive influence on anyone whos every heard them, myself included.
It Is Impossible thought to be only a myth of the rabid fanbase, but recently unearthed, and now finally available on Cowboy Democracy Records showcases the band at their chaotic best. Shortly after recording sessions were completed, The Eggs literally disappeared for exactly ten years, returning with nothing to show but a tan, leaving a bewildered Vok to face a hysterical press, desperate for an album that it seemed would never be released.
Breaking fresh ground everywhere – the tempos appear to run backwards, the synths seem to have been constructed to facilitate dimensional shifts, and the hidden track occurs right in the middle of the album – Impossible deserves to be listened to over and over again, until you can no longer separate your perception of reality from the albums effects. Thanks to this release, you finally can.
– Luke Elliott, The Guardian, May 2007
TWO
I can't remember when my ears first opened wide enough to take in Toby Vok and the Eggs, but I do remember how I felt – sick. Sick that it had taken me so many years of listening to other, deeply inferior bands before finally stretching my aural muscles to the required diameter for Vok inclusion. I remember finishing my breakfast at a sprint, and then jogging to the local record shop, wallet bulging with coins, and demanding the back catalogue from a nervous employee.
Can't help you, mate, he muttered, it's all out of print.
My heart fell like an anvil onto the blacksmith's floor of the record shop. It took me almost three days and nearly seven pounds to scour internet auction sites for rare copies of 'We Were So In Phase', 'ATRAAAAAACT' et al. When they finally arrived, I wept tears of how glad I was that they had arrived, and then commited discs to hi-fi. They have remained there ever since.
In the years and months since then, I have hunted down every scrap of information I could find on the mysterious combo. From interviews to press releases, gig posters to fringe member Philip Wince's haiku autobiography, I devoured them all. It was a brief mention in the latter that led me to believe in the existence of an unreleased album.
Oh, Toby Vok, man
when will you release that new
album of yours, man
Man, those drivin' tunes
they need to be heard by folk
as theyre daaa-haaaamn fine
Terrible poetry aside, I deciphered a very real message of hope in his cryptic turn of phrase. Two poster campaigns, an internet petition and a brief phone call to Audiac Quintet ex-head-honcho Terald Vaaaaaak later, I had negotiated a deal.
I still have the master recordings here. You're welcome to them, but please be aware that they're… cursed.
What you now hold in your hands is the orchard fruit of years of fanatical searching and sherlockian sleuthing. Enjoy the album – and beware the curse of Toby Vok.
– Vom Vorton, The Wire, August 2007